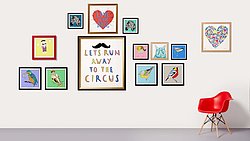 Amber Elise is an illustrator and screen printer who has honed her skills as an artist in Bristol over the last six years. She has developed a fresh, bold style inspired by the cut outs of Matisse, the bright colours of Andy Warhol and the music of David Bowie.
Using a mapping nib and ink, Amber hand draws all her designs, brought to life using the vibrant palette that makes her style so recognisable.
Murals, exhibitions and commissions form the basis of Ambers work and now you can have Ambers illustrations as exclusive limited edition prints for your home.
Amber Elise Design offers her artwork as limited edition giclee prints in bright colours to make these hand drawn illustrations pop. Show your walls some LOVE.
Vibrant colours bring these prints to life and they are a perfect gift for all ages. Whether you are bringing playful imagination to a nursery and kids room, a cheeky character to your home or sending a fun and heartfelt message to a loved one, there is something to make everyone truly smile. You can "Run Away To The Circus", make friends with "Betty Blue Tit" in your kitchen or say "Love Is The Drug" to someone special.