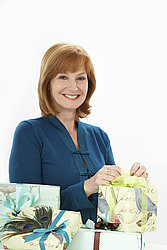 Hello, Thank you for visiting my store on Notonthehighstreet. I started out as a professional gift-wrapper and then I spotted some gorgeous gift-wrap sets in Canada that weren't available here. So, I decided to make some up myself and now you can order all you need to make your special gift look realy lovely and co-ordinated. I am always on the lookout for unusual products that I feel offer something unique.
The Life Story Journals from the company, "FromYouToMe", make a great gift as they really connect with both giver and recipient. Whoever receives one of these journals is encouraged and inspired through the many questions, to recount their memories and thoughts on their life. It is a fantastic way to find out all about the person you love, as one day you will have the journal returned to you, and can maybe then pass it down through the gerations.
I found the wine-scented candles in America and thought they were so unique I had to bring them to UK. A few small retailers have them but you won't easily come across them. They are big, bold and have beautiful fragrances.
If you would like to learn how to gift-wrap yourself, my DVD shows how to wrap different shapes of gifts, with some added extras that will make your gift stand out. With these basic techniques, your gifts can look professionally wrapped and utterly gorgeous.
While I have my own website and not a shop, I feel as though I am creating my own special gift shop. Please stop by in the near future to discover what else I have found to make your life less ordinary.