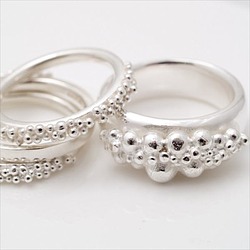 Naturally beautiful gold and silver jewellery handmade from my Sussex garden studio.
Brought up on the Sussex coast, my work is greatly influenced by the forms and textures of nature and more recently by my love of 1950's fabrics and mid-century styles. I love jewellery that is tactile and weighty, but also easy to wear. Why save it for best when you can enjoy it every day? My greatest compliment is when a customer says, 'I haven't taken it off' which seems to be a regular comment!
Trained at Central Saint Martins, I gained a BA (Hons) degree in Jewellery Design and went on to work for several well known jewellery designers including Dinny Hall. I started my own business in 2005 and have produced a number of collections, including the very popular pebble and beaded collections. I also do exceptionally well with my affordable, contemporary gold range.