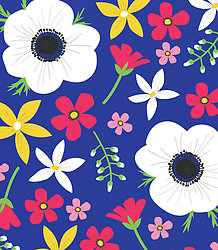 Hello! Thanks for coming and checking out my work.
You must LOVE colour and pattern as much as I do. I spend my days drawing collections and designs for the gift, stationery and kids clothing market as well as doing the occasional private commission.
At home in my studio, you will find me surrounded by pencil sketches on paper, as I feverishly recreate my work on the computer. This past year, I decided to take the Lilla Rogers Make Art That Sells ecourse, and that had a huge impact on my work. It increased my passion for design and illustration a lot, and made me realise there is a little place for all us out there in the world.
I want to bring a smile to people's faces with my patterns and illustrations. I love the idea of people owning a little bit of my personality out there in the world.
Textiles is very much in the blood for me, as my mother was a textile designer in the 70's and her talent clearly ran through to me, as I also studied the subject at university. I thank her for her continous creativity and support in my little business.
I hope, with the purchase of one of my prints you will feel a sense of nostalgia and joy. A print where I strive to create quality and colours that are special and fun. Where each one is carefully printed in the UK and signed in my studio.
I hope you find something that captures your heart when looking in my shop.