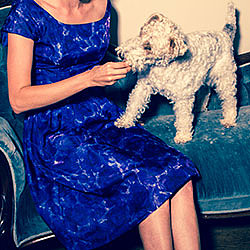 Welcome to Alice Foxx, exquisite British luxury for your dog. Hand-crafted by artisans in the England and Italy, using only the finest materials, our range offers the ultimate in style and quality.
Founded by luxury handbag designer Ann Saunders, Alice Foxx products have a distinctive attention to detail and a commitment to using only the finest materials that is unique among pet products. Veg Tan Italian leathers, traditional waxed cotton, gunmetal hardware all reflect the heritage values of the brand, which draws inspiration from Alice, Ann's wire haired fox terrier, the most popular breed in the Jazz age.
The Alice Foxx range combines craftsmanship with style that is equally at home in town or country. Our collection includes chic leather leads and collars, handmade coats and bags. Everything for the fashion conscious dog and their discerning owner.