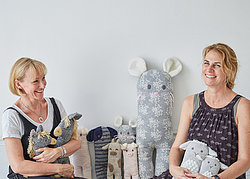 Hello, I'm Anna and I'm so pleased to welcome you to Albetta, where you will find gorgeous gifts and great ideas for little ones.
One of my best and oldest friends, Annabel, set up Albetta back in 1999. It's named after the eldest of her four children, Alba, and was born from her passion to create gifts, toys, clothes and accessories for babies and children that are stylish, fun and a little bit different (and of course as a mum of four she has an eye on the practical!). Annabel still oversees every design and every detail of production.
My background is advertising and I've always loved the people side of business. So when I had my three children (yes, that's seven between us!) I started to work with Annabel and am now running our Notonthehighstreet store. I love every minute of it and my favourite part of all is seeing your feedback and comments and answering your questions.
We are very proud of the way we combine new and original ideas and designs with traditional crochet, appliqué and embroidery - all done by hand - to create timeless items of superb quality. We've been featured in parenting magazines, other monthly magazines and gift guides, including The Guardian's Christmas Gift Guide 2015. We were thrilled to be awarded Platinum in the Junior Design Awards 2016, where we won Best Toy Design 0-2 years for our Superhero Soft Skittles Set.
Please do get in touch if there's anything you need to know or if you simply would like advice on what to choose. We've developed our Notonthehighstreet range to help you buy the perfect gift to welcome a new baby or to celebrate children's birthdays and other special occasions. Happy shopping!
Anna Grint & Annabel Landra