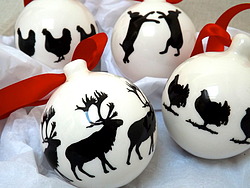 The restrained yet elegant creamware range designed by Aiga Sattler in her London based workshop.
The idea for the Creamware range was born in 2006. On a rainy autumn's afternoon after exhausting search for perfect gift for my father - hunter and wild animal lover, I was faced with surprising fact - the lack of ceramic tableware and gift-ware for hunters. As ceramic designer-maker I felt that one way to solve this problem is to design it and make it myself. The range started with simple salt & pepper shakers in shape of a cartridge. A set was decorated with my father's favourite animal - wild boar. Gift proved a great success and that encouraged me to make more pieces.
"Wildlife" ceramic tableware series decorated mostly with black silhouettes of wild animals, birds and figures.
Product info: all ceramic tableware pieces are dishwasher safe (low and medium settings).