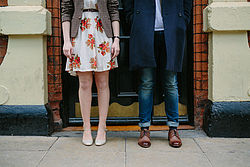 Luxuriously affordable, the brand new agnes & norman collection combines classic ideas and vintage styling with on-trend colours and silhouettes. Spicy, rich tones and earthy neutrals in leather and suede are married with delicate stitching, metallics, flattering straps and cute bows to create vintage style shoes for work, rest and play.
Every shoe is exclusively designed in the UK and beautifully handmade in Spain (women's shoes) and India (men's shoes) by skilled craftsmen and women. Emphasis is on simplicity and quality, with high-grade leather uppers.
With carefully selected heel heights and full leather linings, the shoes are as comfortable as they are stylish, with all women's shoes available in sizes 2-9, and men's in sizes 6-12.
Every shoe tells a story and feels like a treasured heirloom. Each pair is designed to fit perfectly, feel indulgent and exude unique character and good old-fashioned quality. Shoes like they used to be.