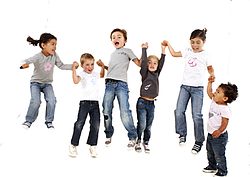 Welcome to A for angels, founded in 2011 by Estelle a French mother of four very active angels who have been an inspiration for a new range of clothes.
A for Angels offers a range of personalised children's clothing for girls and boys including hoodies, long sleeved and short sleeved t shirts from one to twelve years old, and pyjamas for babies. All our products are made of 100% organic cotton and personalised by hand in the UK. In a few clicks you customise your own product with a name, a phrase and a design from our library for a very personal touch. Because they are unique they make great gifts for a treat or for special occasions such as birthdays, Christmas presents, birth gifts etc.
We deliver in the UK in less than five days and we offer express delivery on all our products if you need to speed up the delivery.
If you have a special deadline or a special request please feel free to contact us by clicking on the 'ask the seller a question' button.