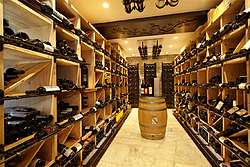 My name is Peter and I started afineyear over 6 years ago, I fell in love with the art of great wine whilst in university in Bristol. From there I worked for a year on vineyard's in France learning the business from the roots. Returning to England I began searching the globe for amazing wine and supplying this to likeminded wine lovers.
I strongly believe that giving wine as a gift is greatly appreciated, and I strive to create unique and highly individual wine gifts that bring enjoyment and memories to the recipient.
All of the wine that we sell has been produced by some of the best wine makers in the world, people who believe in quality not quantity. This is becoming more and more important as the larger wine brands produce wine that barely represents the grape variety from which its produced to satisfy a market that demands cheap plonk.
We undertake the very difficult job of tasting all of the wine that we sell to ensure that it is at its optimum drinking condition and will offer the recipient the beguiling drinking experience it should.