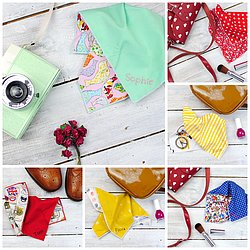 Welcome! My name is Joanna and I am the designer and creator of Adventures and Tea Parties. I have been designing ever since I was able to pick up a crayon and this has continued with a constant flow of creations.
Many things inspire my designs: beautiful colours, patterns, textures, objects and accidental combinations of all of these. Music also gets my creative juices going, as well as adventures around this beautiful country.
My handmade, bespoke range is made in mind with those who like beautiful, unique accessories to accompany them on an adventure, tea party or both!
All embroidery is done entirely by hand, as I feel it gives a much fuller appearance than machine embroidery.
Thanks for stopping by and happy shopping!