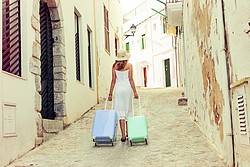 Where will your adventure take you?
Adventure Avenue is the online store for active people on the move. At Adventure Avenue we like to bring you stylish, high quality and unusual travel products at all price ranges and to suit all tastes and budgets. Here are some of the best:-
CARIBEE is the market leading travel and leisure brand in Australia. Caribee has a huge range of backpacks, rucksacks with wheels, school bags, travel bags and luggage.
Caribee has over 50 years experience supplying the world's most demanding travellers.
Buy with confidence as there's not a lot the Australian's don't know about backpacking and world travel!
VAUDE is simply an uber stylish range of backpacks, messenger bags and trolley cases from one of Germany's most respected and green outdoor and travel companies. Many of their products are made from 100% recycled materials.
For over thirty years VAUDE has stood for excellence in mountain sports and is now one of Europe's leading outdoor sports and travel luggage brand names.
Today VAUDE is one of the very few privately owned enterprises in the industry that has successfully withstood the trend toward consolidation.
VAUDE take their green credentials very seriously and have won many awards for sustainability. Vaude has the strictest criteria for Eco Products in the entire outdoor and luggage market.
VAUDE products are now sold world-wide.
SUITSUIT: DRIVEN BY PASSION AND INSPIRED BY FASHION
SUITSUIT® is a young organisation, established in early 2008, with the goal of becoming one of the leading brands in innovative and fashionable luggage and travel accessories. By identifying tomorrows' fashion and style trends and understanding travellers' needs, we have infused innovation and new ideas into our range of luggage and travel accessories ever since. As luggage is increasingly becoming a fashion accessory with contemporary designs, trendy colour combinations, textures and clean contoured lines, women between the age of 25 and 49 are our primary target audience. Inquisitive, trend-aware, creative and globe-trotting consumers seeking original, contemporary and trendy travel accessories.
People that want to stand out from ordinary travellers shop at Adventure Avenue!