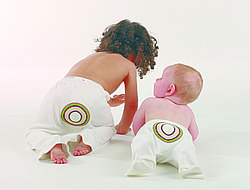 37 degrees is baby clothing that uses a temperature regulating technology that was created by NASA for the astronauts suit. Totally unique in its benefit, helping to limit the risk of overheating and allowing the babies to sleep better throught the night, ultimately giving the parents a better a better undisturbed nights sleep too!
The range includes sleepsacks, which are our best seller and needs no tog value, along with essential items for every baby including babygrows, pyjama, vests, blankets, hat and mitts, t-shirts, hoodies and tracksuits, tunics and bloomers.
The range comes in three designs: noughts and crosses, target and the embroidered range.